Can you imagine Christmas without the traditional stockings that stand above the fireplace and should be filled with many gifts? Even if they are not part of your native tradition, you have to admit that the idea is beautiful and that the decoration reminds you of family closeness and love.
If you want to use traditional Christmas stockings this season, you certainly want to be different from the usual red models with white decorations. You can include your pets in all of this. Yes, even they deserve a Christmas stocking full of presents for them. Just imagine how happy your dog would be if he received a dog Christmas stocking full of treats for them because they are good friends and pets.
What's the meaning of a Christmas Stocking?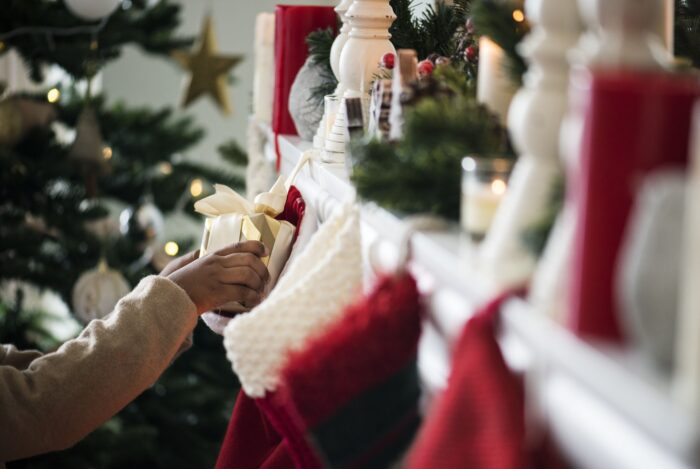 The tradition of hanging socks in the fireplace originates from the legend of Saint Nicholas who, they say, knew of a very poor man who had no gifts for his daughter's husband-to-be. Then St. Nicholas secretly crept into his house and put gold coins in drying socks hanging in the fireplace. Since then, it is said that the presents that appear in the stockings are those that are authentically placed by Santa Claus.
Due to a tradition that originally started in European countries, children simply used one of their everyday socks. As this tradition became more and more popular worldwide, special Christmas socks were created for this purpose.
You can find them in so many pre-made, but also in custom designs. Sometimes, people love to create something unique, which even serves as a Christmas tree addition. That's why you often see them hung from the end of November, until New Year's Eve.
Today, stores bring a wide variety of styles and sizes of Christmas stockings, while they are also a popular homemade craft. Usually, you can find exceptional designs in the Christmas markets around you. Many families create their own Christmas stockings with each family member's name applied to the stocking, so Santa will know which stocking belongs to which family member.
We must say it's such a beautiful tradition, even though it's not widely accepted worldwide. Still, we have a few suggestions on how to get most of these decorations.
But did you know that you can get really creative with your choice of Christmas stockings to place all around your home? Here are some interesting ideas that we believe you will like:
Classic Christmas designs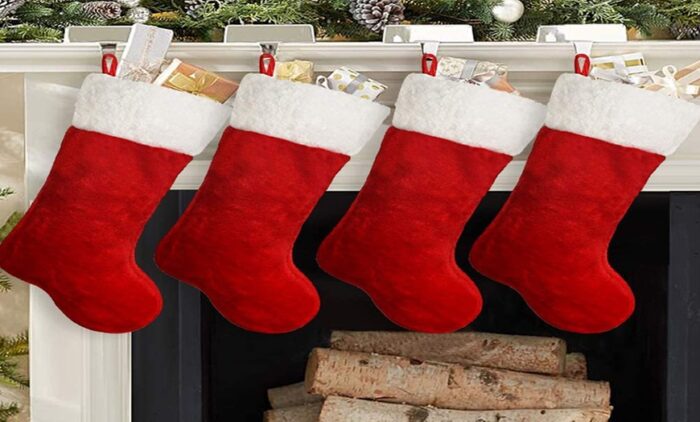 Here we are talking about the beautiful red stockings decorated with Santa Claus, Rudolph, the snowman, as well as the elves who help Santa blow up all the presents. You can also combine them with various thematic decorations, for example, lanterns or Christmas tree branches.
Although this is a very predictable and expected design, you can never go wrong with a classic. If you're not one to experiment, then the classic Christmas design of these socks is just what you need. You can never go wrong with them, even if you go overboard with the decorations.
Designs in different colors
Just because it's Christmas doesn't mean you can't experiment with lots of different colors. Show your creativity by designing or trying to make Christmas stockings yourself. Do not hesitate at all to use orange, yellow, or blue in the most interesting way you can imagine. You'll be surprised how effective these designs can be for decorating a space.
Knit your own woolen Christmas stockings
If you are talented at knitting, it's time to find all the scraps of yarn and wool and indulge in creativity. Can you imagine how many wonderful works can come out just by using different colors and types of thread?
These socks can be an ideal gift when you visit, and you can even take advantage of the therapeutic benefits of knitting. However, one thing is certain – no one else around you will have even similar to your interesting and unique stockings.
Elf stocking
If plain designs and cuts are boring you, then it's time to do something different. Try to find elf stockings, and if there are none in the store, you can always design and make your own. In these designs, you can use any textile, accessories, or decorations and achieve interesting works of art.
Of course, give elf stockings full of sweets to your children and the children of close relatives. They will surely be surprised by your creativity.
Tweed socks
This is an interesting choice if you are giving something to friends or adult relatives. Choose flannel tweed or other materials with this pattern. They will look really retro and remind us of warmth and closeness.
You can combine the Christmas colors and maximize the gift-giving effect with the great selection of designs.
Matching design for you and your partner
If you live alone with your partner and have no children, then you can afford to spoil each other. Of course, expenses around the holiday season are always higher, but that doesn't mean you can't afford a more expensive gift for the person you're closest to.
You can even delve into clichés like Him & Her and even Mrs and Mr if you really want to.
Superhero designs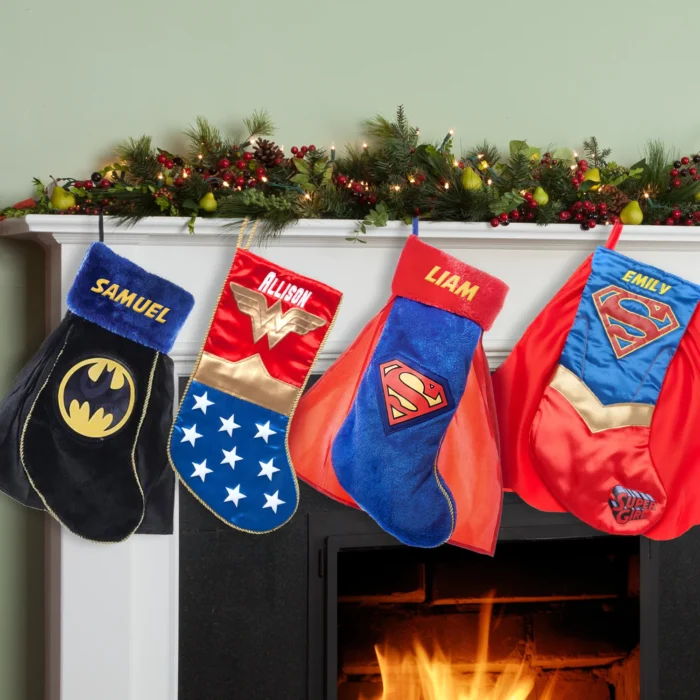 Many children have favorite heroes, so their stockings can be inspired by that. You can go even further and combine ideas from your favorite cartoons. Can you just imagine how happy they would be about something like that?
Be creative, especially for those who matter to you. You can always buy, but if you're feeling creative enough, there's nothing wrong with trying to design yourself.
Conclusion
We hope that we inspired you to enhance the festive spirit this year. Christmas stockings can become your favorite type of decoration, which fits any festive décor you have in your home. No matter which models, cuts, or colors you prefer, one thing is for sure – these stockings make a great Christmas present for those around you.
So, don't mind putting in some effort, until you find exceptional designs that you will enjoy during the holidays.